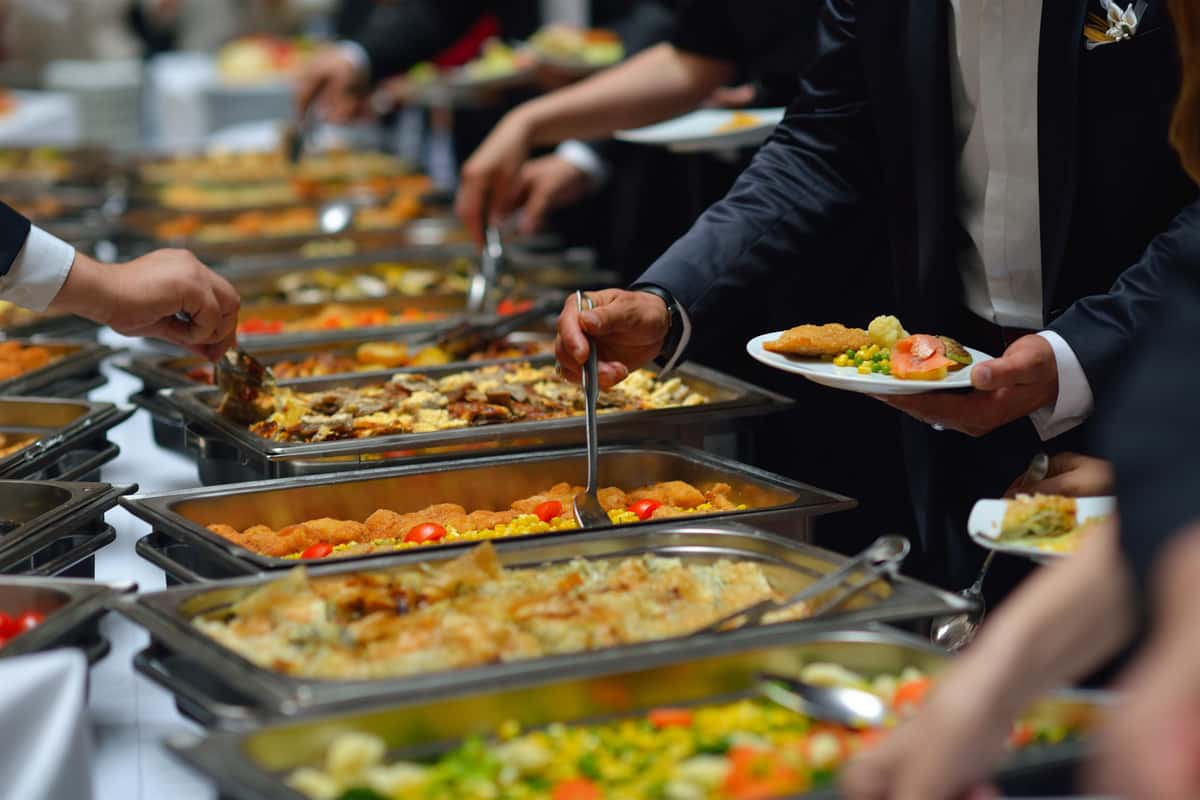 Full Service Catering & Delivery
Small Or large, our events include Weddings, Rehearsal Dinners, Reunions, Anniversary Parties, Cottage Parties, and Drop off or Full Service at home. Let us Cater your next event!
DROP OFF CATERING MENU FOR LUNCH/LIGHT FARE
Drop-Off Catering Prices:
1 Entrée and 1 Side- $9.99 per person
1 Entrée and 2 Sides- $11.50 per person
2 Entrées and 2 Sides- $14.50 per person
2 Entrées and 3 Sides- $15.99 per person
3 Entrées and 3 sides- $19.99 per person
Drop-Off Catering Entrées:
Baked Ziti
Beef Stroganoff
Chicken & Biscuits
Barbeque Pulled Pork
Scalloped Potatoes and Ham
Eggplant Parmesan
Swedish Meatballs
Grilled Marinated Chicken Breast
Italian Sausage with Peppers & Onions
Penne and Broccoli Alfredo
Vegetable Lasagna
Chicken A La King
Meat Lasagna
Meatloaf
Special Requests Available
(price is subject to change)
Drop-Off Catering Sides:
Pasta Salad
Fresh Fruit
Potato Salad
Wild Rice
Macaroni Salad
Mashed Potatoes and Gravy
Loaded Baked Potato Salad
Vegetable Medley
Cole Slaw
Glazed Carrots
Baked Beans
Green Tossed Salad
Cottage Cheese with Fruit
Green Beans
Tomato Cucumber Salad
Corn on the Cob
Caesar Salad
We have our famous Roasted Red Pepper Soup to add to your event for only $2 per person!
Or ask about your other favorite soups from The Keuka.
Appetizer Trays and Wrap/Sandwich Options:
Trays:
Veggie Tray with Dip: $1.25 per person
Cheese, Cracker, Pepperoni: $1.25
per person
Combo of both: $1.50 per person
Chicken Fingers: 20 for $25
Served with dipping sauce
Chicken wings: 50 for $35
Hot, medium, mild, golden, BBQ, garlic parmesan, sweet and sassy
Jumbo Shrimp Cocktail: 50 for $70
Bruschetta: 50 for $65
Sandwiches and Wraps:
Wraps:
Options: Chicken Caesar, BLT, Chicken Club, Tuna Salad,
Chicken Salad, Turkey, Ham, Roast Beef, Fiesta Chicken
Cold Sandwiches:
Options: BLT, Tuna Salad, Chicken Salad, Turkey, Ham, Roast Beef
Hot Sandwiches:
Options: Fish Sandwich, Grilled Chicken, Reuben, Hot Ham and Cheese, Burger, Pulled Pork
Wraps/Sandwiches: $7 per person
Add a side for $3 per person more
Desserts:
Brownies: (25-30 people) $28.00
Cookies: (50 count) $27.00
The Keuka Catering Lunch-All-Inclusive-Deal!
Let Us Take Care of the Details
$15 per person includes:
Choice of select entrée, sandwich or wrap served with a choice of Salad or Side, Soup, Dessert, Drinks, Plates, Napkins, Silverware and Set Up!
We will take care of everything!